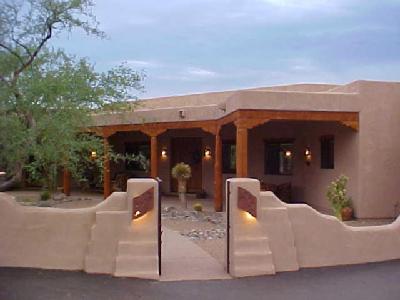 Decorating & Design Tips &Ideas


Welcome to southwest home interior decorating & design tips and ideas page! Are you looking to decorate home or just a room with a Southwestern or Santa fe flair? Well we are here help you do just that. we have gathered a few aticles from the web and other pubcations to help you, like this one from Kathy Burns-Millyard.


When you think of the Southwest, what do you think of? Deserts, cactus, saloons? Well, Southwest style decor can actually combine these visions into a single decorating style. If you're wanting to use a Southwestern decorating theme in your home, a living room or den is a great place to use it. The bright colors and patterns are conducive to conversation. When you are looking to use this style, you first want to think about what colors you want to be most prominent. Reds, oranges, yellows, and greens are traditional Southwestern colors. You may want to paint the room a deep turquoise and use throw rugs, maybe even some from a nearby Native American reservation, for the floor. Colorful rugs can also be used as wall hangings. Many reservations still make these types of rugs by hand, so you can purchase authentic rugs at a reservation or online. The rugs are generally striped, and you want to use one that has all the major colors in your room on it. After you choose a wall color and some throw rugs or blankets with your colors, then you can begin looking for furniture to either match those colors, or fit the overall decor theme you're creating. You may find that this is your biggest challenge. My suggestion would be to find a slipcover that would match your colors so that you do not have to purchase a new couch, and if you ever want to redecorate you will just need a new slipcover. Tan colors work well if you use brightly colored pillows or you could choose a red or yellow slipcover for your sofa and chairs. Dark woods look good in a Southwest style room; you will probably want to distress the wood so that it looks older, adding a more authentic touch to your room. Rustic, cabin-style furniture and accessories tend to go well with the Southwest Style decorating theme too. Finally, you will want to choose matching accessories. For each of the major colors in the rug, you'll want to have two to three items of a similar color around the room; otherwise, the color may look random and not mesh with the rest of the room. Additionally, you will want to have wooden pieces and tan pieces to break up the bright colors of the Southwest style. Ivory and turquoise pieces will also make beautiful additions to the room. Southwest style has a bright, cozy feel. The colors are warm, earth tones so guests tend to feel welcome and you feel comfortable. Rooms in this style tend to be good for playing games or talking; the colors stimulate action and conversation, so be sure to use this in a room where you truly want that atmosphere. Find authentic Native American pieces when you can, and use desert photographs to decorate the walls. Your creativity will help you envision hundreds of ways to decorate your room in the Southwest style, and each will be interesting, invigorating, and beautiful. For more home decorating and decor tips, ideas, articles, and gorgeous decor accents and accessories for your home - visit The Do It Yourself Home Decorating Network @DIYHomeDecorating.com. © 2005, Kathy Burns-Millyard.

Remodeling your kitchen

The kitchen is the most important room in the house. Not only is it one of the most used rooms, but it is also the room that adds the most value to your house. Whether you are considering remodeling your kitchen to increase your homeís value, or just because you want a nicer place to prepare your meals, you will want to read this article.

Preparation is very important when it comes to tackling a remodeling project. One of the most important factors in a kitchen remodel is the cabinets. Your choice of cabinet style and color and layout will set the mood for your kitchen. Oak cabinets are perfect for a country kitchen. Maple cabinets offer many of the same colors as you might find in Oak, but the grain on Maple is much finer and this gives a more uniform finish to the cabinets. Maple cabinets are the most poplar because they take stain nicely and are affordable. If it is in your budget, you might consider Cherry cabinets. Cherry wood will give your kitchen a more formal feel and the wood will darken over time and Cherry is an excellent choice if it is in your budget. It will really set your kitchen apart. Recently a number of cabinet makers started building cabinets using Birch. This is great for the consumer because Birch looks just like Maple, but costs the same as Oak. If you are on a budget, you should look for Birch cabinets.

If you like to do things yourself, you will want to do some research online to find out about different cabinet sizes and styles. This can help you in determining the cabinet layout and the cabinets that are available in the style you are interested in. I have done plenty of research and found a site, www.ushomeproducts.com, that should be able to help. This site offers a few different brands of cabinets in a number of door styles, species and finishes. The coolest thing is that you can see all of the cabinet specifications on the website and download a specification file if you want to have a printed copy. The cabinets range in price from inexpensive thermofoil to very decorative and expensive Cherry cabinets. Another cool thing about this site is that the prices are on the site and you can choose all of your cabinets and save the list to come back to a later time.

The Marsh cabinets are a great value. They offer standard overlay doors and a solid wood face frame. The Madison is a Birch door and it is the least expensive wood door style on the site. I had a friend use these cabinets recently and they looked great in his finished kitchen. They looked like the more expensive Maple cabinets, but he paid the same as Oak cabinets. His kitchen turned out beautifully and, since he designed and installed it himself, he saved money!

The High Point cabinets offered on www.ushomeproducts.com are a European style cabinet. That means the cabinets are frameless with a full overlay door. The frameless cabinets are pretty convenient because there isnít a frame on the front of the cabinet. This is very helpful on cabinets with 2 doors because there will not be a center stile to block the entrance of the cabinet. These cabinets are also offered in a number of door styles and finishes.

The Mid Continent Cabinetry line of cabinets is a framed cabinet with a full overlay door. This line of cabinets offers some door styles that are a little more decorative and they also offer some specialty cabinets like wall cabinets with garages or drawers on the bottom. You might want to consider this brand if you are looking for more custom features and are not as concerned about spending a little more money.

There are several benefits to buying your kitchen cabinets online. One of them is that you will know exactly what you are buying and paying for. My next door neighbor went to Home Depot to get a quote on some cabinets. He took his kitchen dimensions with him and picked out a door style and told the sales person that his budget was $20,000. A few days later he went back to meet with the designer. The estimate was for over $30,000. The designer paid no attention to his requests and included a number of cabinets and items that drastically increased the cost of the cabinets. He was pretty frustrated about it and I told him about www.ushomeproducts.com A few days later he told me that he was going to order his cabinets there because they had all of the cabinets he need and after he put everything in, the total was well below Home Depot. He was even able to buy cabinets for his butlerís pantry and add a small serving area. On top of this, he bought a number of glass inserts. He told me that he spent $17,000. I was shocked, so I have been on www.ushomeproducts.com working on my cabinet list and plan to order from them soon.